Within the second phase of European Cultural Foundation's and MitOst e.V.'s Tandem Cultural Capitals cross-border collaboration programme, Yannis Pappas (Chorus / Eleusis, Greece), following Claudia Woolgar's (Brave New World Producties) journey to Eleusis, visited Leeuwarden, the Netherlands in order to get to know the city and its people, become directly involved with Claudia's daily work environment and develop the idea of their collaborative project. In the following story, Yannis shares his insights from his journey.
---
Not being an Eleusinian, I had never been to Vlycha; Eleusis' inconceivable ship graveyard that shocked Claudia. So, I was equally appalled with her when we have had to witness the city's shameful backyard.
With all this in my mind, I was about to visit Leeuwarden, eager to delve into the connections and the differences between our cities; a past and a forthcoming European Capital of Culture.
Friesland is a special place. This pristine northern province is the spot to take your foot off the pedal and go slow, Friesian-style, amid raw seaside nature and a plethora of namesake black-and-white cows. Frieslanders are very -very- tall, with their own language proudly adorned on road signs. Here, they didn't just have to build terpen (plural for terp) and dykes to protect their land; they had to build the land as well.
It was my first time in the Netherlands, and I feel very lucky I met Claudia in Rijeka, Croatia, and thus, it was Leeuwarden and the province of Friesland where I started to get to know this extraordinary country and its people.
My flight from Athens to Amsterdam was not very long but we hit some rough air for quite a long time. Claudia was waiting for me at Leeuwarden's train station. The awe-inspiring Jaume Plensa's "Love" sculpture/fountain was the first thing I saw as soon as we got out of the station. Claudia rented a bicycle for me and I started cycling next to her towards the place I had booked only to realise that Dutch bicycles have no brakes! […] Which seems typical of a people like the Dutch, who exhibit an exuberant creativity and skill in any field of activity…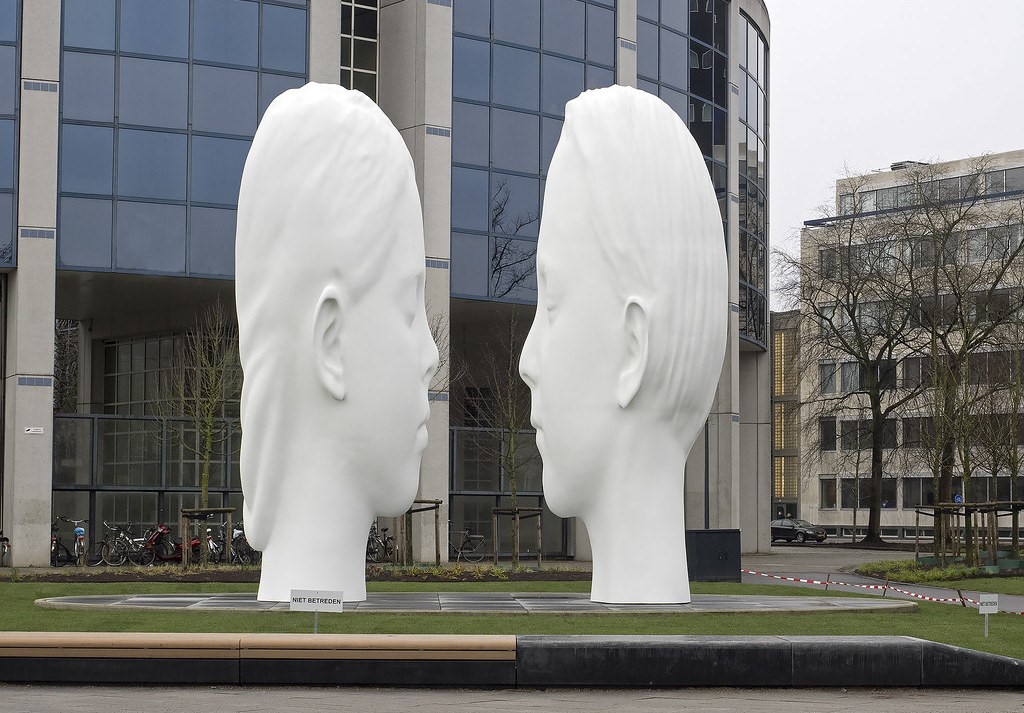 My first night in Leeuwarden ended with a welcome dinner at a cosy restaurant where I met Claudia's business partner and co-founder of Brave New World Producties, Jan van Erve. Jan was i.a. Head of Partnership and Commerce of the European Capital of Culture Leeuwarden Fryslân 2018 Foundation. Since January 2019, along with Claudia and a mighty team, they aim at enriching the legacy of Leeuwarden-Fryslân European Capital of Culture 2018, by focusing on presenting international events with a strong link with young and new artists from the region.
My first day in the amazing coastal province of Friesland was more than full. Along with Claudia, I was thoroughly introduced to the Frisian countryside thanks to an amazing Friesland insider as our guide. His name is Klaas Toering and I'm really jealous of him as he loves his homeland's past, and, after lots of research, he knows what should be done to ensure good future prospects for his region. It is Klaas who helped me realise the unique bond the Dutch have with water. It's their best friend and their worst enemy. It creates unique landscapes and economic prosperity. Yet, with more than half the country at or below sea level, people here always have to stay alert to protect themselves against floods.
The landscape along the Frisian coast has a special feature, apart from the enormous sea-walls (aka dykes). This is the terp (mound). Terpen are actually raised hills; a protection against rising seawater, and I had the chance to visit the highest one at almost 9 metres above the sea level: the beautiful mound of Hegebeintum. Yet, what really surprised me (and not Claudia and Klaas) was the number of shells around the cute church on the top.
Following a shortstop for a coffee at a nearby nursing home (!), where I tasted the tompouce (traditional pastry), we arrived at one of my trip's highlights: Zorgboerderij de Iik. An extraordinary dairy farm where (young) people with a mental disability and/or behavioural problems may feed and milk cows, drive a tractor, brush horses, grow vegetables, saw and split wood, paint, bake, cook and much more. An exemplary inclusive initiative run by the inspiring and energetic Folkert and his mother Christien. Before leaving, we had a short but in-depth talk with Folkert (who must be around 25 years old) about his interesting views on his future life as a farmer which include immediate dealing with the environmental crisis. Nonetheless, it is the picture of happy-faced hard-working people around me which is literally stuck in my head. Hats off!
During the next days, thanks to Claudia, I was given the opportunity to meet and discuss with key-people for our project, such as the theatre director Sjoerd Wagenaar, who managed -in less than an hour- to make me feel his passion about our idea, Enno Feenstra (also a member of BNWP), and Suzanne Peters, who warmly welcomed me at the old headquarters of LF2018, where I saw an indescribable picture of the people who worked for Leeuwarden's European Capital of Culture taken on the programme's last -liberating- day. God, I got so jealous of them!
I've also been to a live interactive talk show on the theme of water and climate, which are both inextricably linked in the Netherlands and especially in Friesland. The place was full of farmers, activists, technologists, scientists, doers, dreamers, eager to find out what should be done. Since everything was said in Dutch or in -melodic- Frisian, it was thanks to Claudia's tireless whispered interpreting that I got into the evening's essence.
Last, but certainly not least, I met the city's Mayor, Sybrand van Haersma Buma, the Deputy Mayor for Culture, Sjoerd Feitsma, and the Municipal Director for Energy, Bouwe de Boer at the city's awe-inspiring Town Hall. All of them are deeply convinced of the value of a European Capital of Culture year for a city and felt passionate about exploring a knowledge and best practice exchange between Leeuwarden and Eleusis, which is one of our project's goals.
Leeuwarden is so different from Eleusis. Both are beautiful in their own unique way, yet both have environmental problems to be tackled. Leeuwarden invisible ones, such a vast green desert where neither flowers nor trees grow and Eleusis more than visible ones, such as an illegal open-air museum of… abandoned ships, an oil refinery and a cement factory -literally- within the city. People in Leeuwarden are afraid of the sea. People in Eleusis are craving for the sea.
Well, can art and culture make the world a better place? Yes, they can. Just watch (us)! 🙂